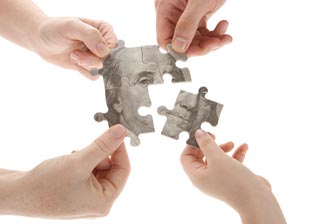 After a Presidentially declared disaster, there are federal funds available to help eligible residents replace certain items and rebuild their homes. The Federal Emergency Management Agency (FEMA) handles the application process for disaster funds. You can apply for assistance in three ways: in person, by phone, or online.
In person
After a disaster, FEMA sets up Disaster Recovery Centers (DRC) where people can go to apply for federal disaster assistance. Very often, other organizations, like the American Red Cross, will set up areas in or near the DRC. The DRC creates a place where people can go to get information about many services and resources. If a Presidentially declared disaster happens in your area and you would like to go to a DRC, check the FEMA webpage online, call FEMA for location information, check the local newspapers, or have someone from outside of the disaster affected area find a location for you.

You should be sure to bring all of the information FEMA requires that is listed below. That way you do not need to make multiple trips or have your application held up by missing information.

By phone
FEMA establishes telephone hotlines for people to call in and apply over the phone. You should have all of your important information with you when you make the call. That way your application is not delayed if information is missing.
Online
You can go to Disasterassistance.gov for "general assistance."

In order to apply for individual assistance, you should have the following information and documents:

Social Security Number (SSN)
Current and pre-disaster address
Telephone number where you can be contacted
Insurance Information
Total household annual income

< see TIP 10

A routing and account number from your bank (only necessary if you want to have disaster funds transferred directly into your bank account)

< see TIP 11

A description of your losses that were caused by the disaster

< see TIP 12
Once you apply, you can track the status of your application online. Keep in mind that verification of all assistance happens through your SSN. This means if your name and SSN do not match up, more information will be requested to verify your identity. This may delay your disaster assistance if you are eligible to receive it otherwise. Verification may be in the form of something like an original copy of a marriage license or a military ID.